I'd like to start something here on Down the Retro Rabbit Hole that I'm going to call "Double Feature." A Double Feature post will feature a garment that I've constructed and a review of the inspiration for that garment. In this particular case, the inspiration comes from a movie!
This week's challenge at
The Sew Weekly
was to create a garment inspired by an Oscar nominated movie. The nomination could be in any category.
I'll be honest, I was incredibly excited and tremendously overwhelmed by this challenged. I am a movie-aholic. I love movies; always have. When I was little, I provided a little pre-diner entertainment for my family by re-enacting scenes from my favorite movies. My one-woman shoes (yes, I did ALL the parts) were apparently quite adorable as my family let them continue for quite some time. So the chance to draw some inspiration from one of my favorite movies while constructing a garment (or at least attempting to!) kinda sound like it was up my alley.
Except... there are So. Many. Movies! The Oscars go all the way back to 1929. This year marks the 84th Academy Awards. After many (many, many, many) hours of Googling, I found
tucked demurely away among all the big name's in the 82nd (aired in 2010) Oscar Nomination List--we're talking the year of
Avatar
,
The Hurt Locker
(winner of six awards including Best Picture), Sandra Bullock (winner Best Actress),
Inglorious Basterds
(for which Christoph Waltz deservedly won Best Supporting Actor), and Kathryn Bigelow's triumphant Best Director win over her former hubby James Cameron--were two nominations for
An Education
. One for Best Movie and another for Best Actress for the immensely talented Carey Mulligan.
Year: 2009
Director: Lone Scherfig
Actors: Carey Mulligan, Peter Sarsgaard
Writer(s): Nick Hornby (screenplay), Lynn Barber (memoir)
Synopsis: In my humble opinion, this little gem of a movie most likely got lost in the brouhaha surrounding the SPFX monster that was Avatar 3D.
An Education
is a coming of age story set in 1961 London. Jenny (played by Carey Mulligan) is a precocious sixteen-year old school girl on track to enroll it prestigious Oxford University. Her life is, admittedly, a bit humdrum. That all changes, however, when she meets charming and worldly older man (emphasis on man) David Goldman. He pursues her romantically and lavishly--the two frequently dine out, go to clubs, attend concerts, etc. He, in a sense, provides the education that Jenny longs for but is not receiving: good food, jazz, Paris... s-e-x. David easily charms Jenny's parents as well. David whisks Jenny off to Paris--her dream vacation--and the two nearly become *intimate*. Jenny asks that they wait until she turns seventeen. Eventually, she learns that David has a few skeletons in his closet.
Every once in awhile I see a movie that I just wish I could crawl into and live there happy and warm. Which is funny, because I don't watch a lot of "warm fuzzy" movies. I much prefer movies that end some-what unhappily... I'm not certain what this says about me.
An Education
is one of those movies. The movie so tenderly examines what it means to yearn: yearn for change, yearn for adulthood, yearn for love. Jenny is an "every (wo)man" kinda of character. She's smart, a dutiful daughter and good friend, and pretty if only she'd get over the awkwardness associated with the teen years. However, rather merely a canvas on which viewers can transpose themselves (I'm looking at you, Bella Swan), Jenny is a fully realized character with a tremendous amount of agency. Jenny gets herself into a mess, and Jenny gets herself out of that same mess... knight in shiny armor not required. This is a female character I can get behind: she's not immune from making mistakes (and dealing with the consequences in a non-hysterical fashion--she never gets hysterical about the things happening to her or around her), she has bad days, she's open to new experiences, and she's willing to make her own way.
Now lets talk clothing. Jenny's metamorphosis from child to woman is not brilliantly and emotionally portrayed via Mulligan's superb acting, but also via her character's wardrobe. Odile Dicks-Mireaux, who has clothed such movies as The Constant Gardner, One Day, Dirty Pretty Things, and Doctor Who (1982), used clothing in a way that evolves as Jenny matures. Take a look:
Early in the movie, Jenny is the picture of awkward teen. She's a bit gawky, her hair--while not terrible--isn't as well coiffed as it could be, and she's dresses in clothing that indicates her status as child.
This outfit is one that Jenny wears to a club the first time David takes her. Note: Hair long and kinda lank, no make-up, and a kinda sack-like dress. However, that quickly changes:
As her relation ship with David progresses, and he introduces her to his suave friends, this happens:
I love how matchy-matchy Jenny and Helen--David's friend's girlfriend, played by Rosamond Pike--are in this picture. Note how, in comparison to Helen who is a bit of a sexual bombshell, the still demure Jenny wears gloves, a less ostentatious hat, and a less showy jacket. She's becoming a sexually aware being... but very, very slowly!
And then there are the Paris frocks. They are beyond words lovely and this first one is evocative of Monet's water lily paintings. The cut is decidedly more sophisticated and trendy (for the time).
I love everything about this...
Jenny's perhaps most sophisticated outfit occurs at the end of the movie, the night of her seventeenth birthday. While this outfit is arguably the most adult that Jenny wears, I can't help but think that she looks like a little girl playing dress up. In light of the action of the scene and Jenny's full transition from girl to woman via the loss of her virginity, it's an interesting juxtaposition of little girl and adult woman. It's beautiful nonetheless: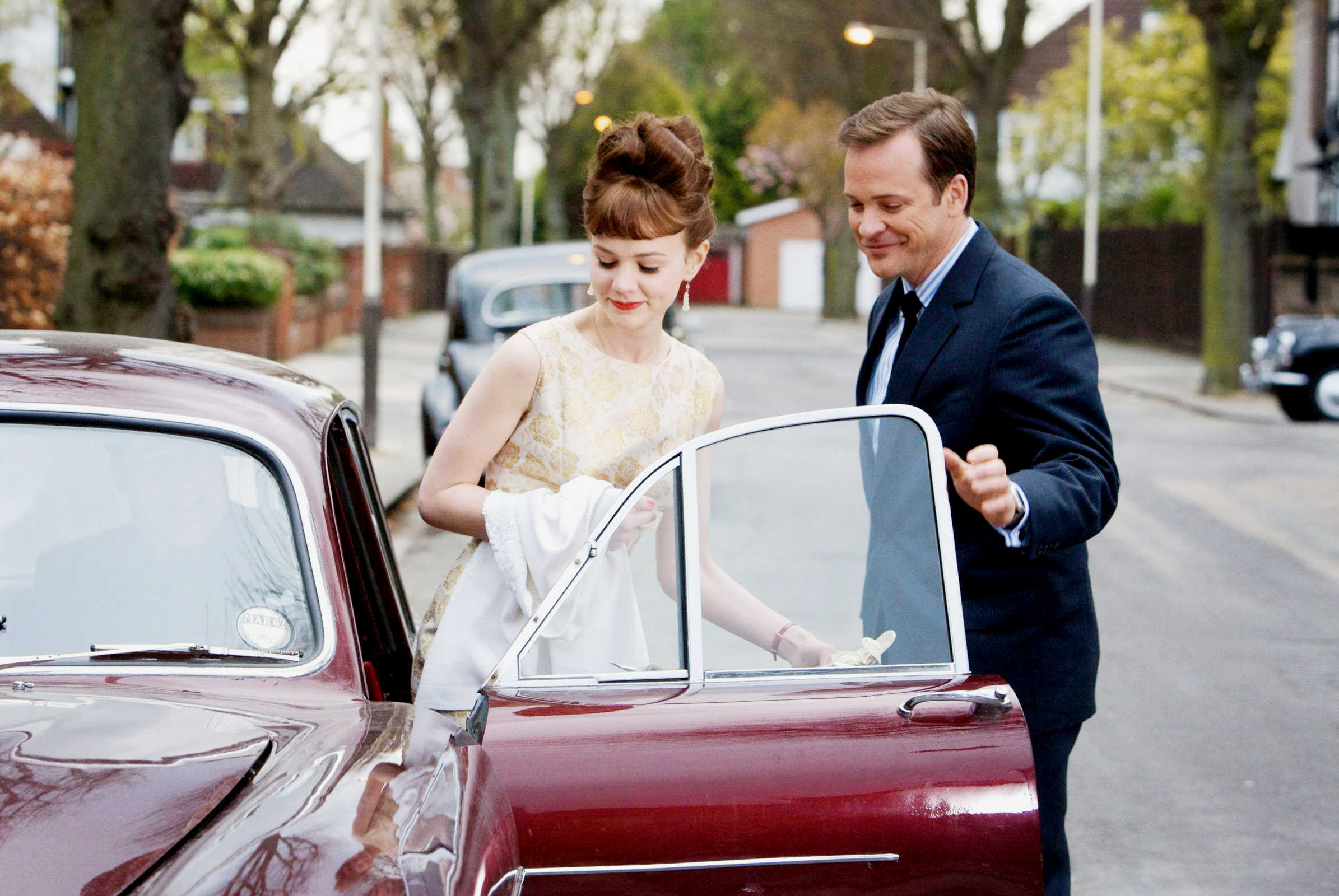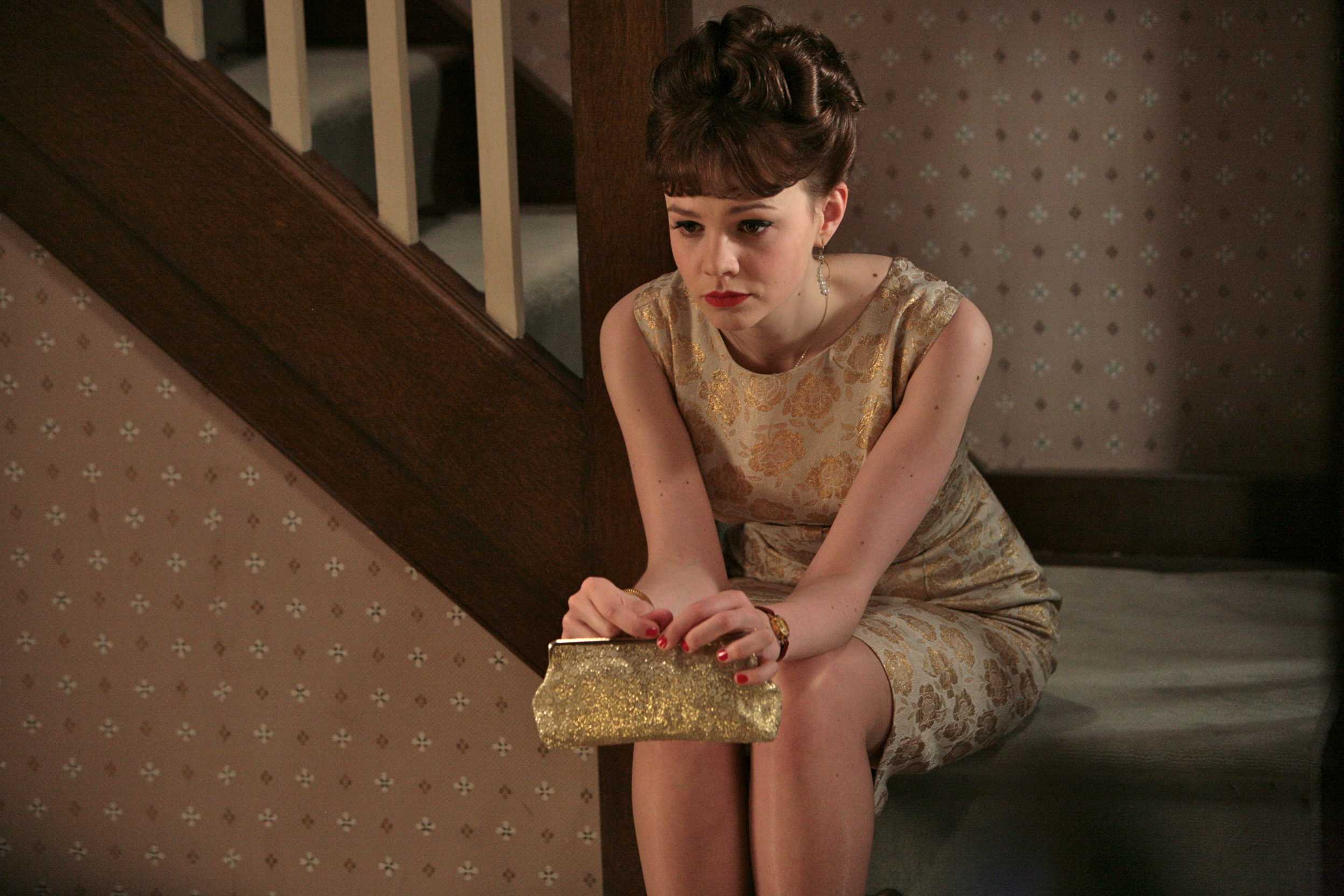 I adore the red nails and accessories!
Jenny's wardrobe in the denouement of the movie reflects her changed status--she wears age-appropriate clothing, something you'd see a college co-ed wearing. She no longer looks like a littler girl desperate to be taken for a grown woman. This portion of her education, it is clear, is complete.
For The Sew Weekly Challenge, I chose this dress:
I wanted something versatile that I could throw a belted sweater over and wear to an interview (assuming I get one of those one of these days soon!) but could also throw on a different pair of strappy heels and some earrings and wear it out to dinner. This is my interpretation of this dress:

Details
Fabric: Silky poly-blend from Joann Fabrics
Pattern: Simplicity 2588
Notions: Zipper, Hook & Eye
Time to Complete: 14 hours
First Worn: February 2012, for pictures
Wear Again? Yes, if I can fix the collar.
Rating (out of three--1=poor, 2=good, 3=excellent):
I mostly like this pattern. I had to do a FBA on the bodice--my first princess seamed FBA. I like princess seams as I think they're quite slimming. I do not like, however, the yoke/collar thing on this dress. It just wouldn't work for me--it ended up all "wavy around the edges" and is top stitched which, in my opinion, always looks sloppy no matter how carefully and slowly one stitches. I chose the slim skirt which has a vent in the back. I was initially worried about the vent--I'd never done one--turns out they're a piece of cake DESPITE the cryptic directions for that segment. And, friend, what joy! This dress has POCKETS. In fact, the pockets were so easy I think I shall be inserting pockets into all future projects.
Over all: I'll probably make this again but with sleeves and a swishy skirt.