I've managed to narrow my choices for
JuliaBobbin's Mad Men Challenge
. The finalists are (drumroll please)...
I have the perfect vintage pattern for this dress! It calls for sheer wool, jersey, or silk crepe. I'm a little confused as to what "sheer wool" is; if anyone has any insight that'd be awesome! I assume that "jersey" refers to jersey knit? I'm having a bit of a problem finding fabric (for either dress, really... more on that issue as it pertains to the second dress in just a moment). I can find a lot of royal blue and navy blue, but not this exact blue. The navy blue tends to be too dark, and the royal just a shade too bright.
The second dress is one that I think would be really flattering on my body, and might not read as dated as the one above. Also... LOVE the color!
I think I can modify
Simplicity 2724
to suit my purposes and I might be able to frankenpattern 3/4 from another pattern to this one. I'd really like
New Look 6968
but I think Mr. Retro would skin me alive if I bought yet more patterns (I recently took full advantage of the $1 sale on Simplicity patterns--which unfortunately excluded New Look patterns). The real kicker for me for this dress, however, is the fabric. This fabric is just GORGEOUS. It's got a rich color, it's got a little bit of tone-on-tone action... I don't think the dress would be the same with out the fabric.
New Look 6968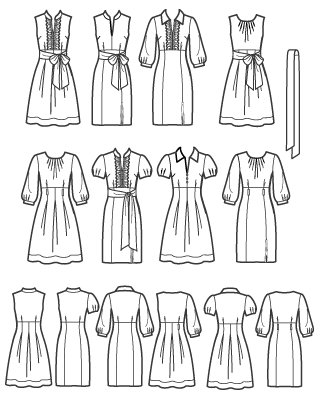 Simplicity 2725
ETA:
This fabric *might* work... I can't decide if the colors are too much and the pattern too large.
In other news... friends, have you seen the number of awesome sew-alongs circulating the interwebs? Two of my favorites that I'm thinking about joining:
In addition to hosting a Colette Sewing Handbook Sew-Along with Miss Crayola Creepy, Rhinestones and Telephones is co-hosting a It's Sew Cinamatique! sew-along from now until the end of May. The idea is to sew as many or as few items in the categories listed using the Silver Screen as inspiration. Categories include: Frocks from Flicks, Tinseltown Toppers (shirts), Feature Film Foundations (bottoms), Slip into the Silver Screen (under garments), The Sweater Girl (sweaters & jackets), and The Ability to Accessorize. Whew! Friends, I LOVE movies and I love Old Hollywood glamour (both on and off the screen). This one sounds like it's right up my alley!
Sarai over at Colette Patterns is thinking about doing another palette challenge. She's hosted two of these now, one Fall Palette Challenge and one Spring Palette Challenge. The idea is to create a palette of complementary colors around which you build a mini-wardrobe for a specific season. You can sew as many or as few pieces as you'd like. She's thinking of kicking off in April/May for a spring/summer theme. I've been contemplating sewing a mini-wardrobe for summer (spring is too quickly approaching for me to get it together in time). I'd like some dresses, a skirt or two, some new tank tops, pedal pushers, and shorts. I think I could manage maybe three of those items between April and May. Maybe.
As always, the Sew Weekly Challenges continue. I've scaled by my participation to two a month. The level of frustration I was experiencing in attempting to finish something I'd actually want to wear was making sewing not fun. And for me, that defeated the purpose. I'm currently working on a dress for the Pretty as a Picture Challenge, which asks participants to draw inspiration from a piece of art. Stay tuned to see what/who I chose and how I interpreted that choice!