Friends, it's been too long.
The short version of my (lousy) excuse is thus: Mr. Retro is currently hardcore dissertating (as in working on his dissertation). This is VIW--Very Important Work--because he has to (absolutely HAS TO) have this dissertation in defensible order by mid-December, preferably the beginning of December as his job at a big university in Miami, FL starts early January and we'd like to move early December (translation: I don't want to be unpacking boxes and whatnot by myself). His new job has been kind enough to give him until end of the 2012-2013 school year to receive his PhD. What this really means is that, again, he has to have the dissertation done by mid-December so he can defend it and spend the Spring Semester--his first semester working--editing the damn thing so he can re-submit it and receive his diploma. No diploma, no job. No job... well, we're up a crick without a paddle.
Now, friends, you're probably asking, "So? What does this have to do with sewing and crafting?" Well, Mr. Retro's office is located in our spare bedroom, which is also where all of my sewing/crafting supplies, table, and machines live. And Mr. Retro finds sewing/crafting... distracting (translation: he finds my incessant chattering and singing along to the radio distracting).
"So why don't you just haul your machines and whatnot upstairs and sew in the kitchen like any other Sewasaurus Rex would do?" Well, friends, our upstairs was formerly an attic. Additionally, it has these really tiny windows that are just the wrong size--neither an air conditioner nor even a small fan of any variety fit in the windows.
As such, it's hot as Hades.
On top of that, temperatures here in Philadelphia have soared to and over 99° (thankfully I missed most of that as I was on vacation).
I choose not to work in sweatshop conditions. Because this sewing thing is supposed to be fun, right? And sweating my proverbial balls if is just not fun for me, friends.
But wait! There's hope! The weather forecast via the iPhone told me this heat is bound to break some time this week or next. So that means I *could* potentially get back on track sewing wise. More on that below. (So sorry! This is totally going to be a long (longlonglong) post with lots and lots of pictures!)
But first...
Melizza definitely spoiled me. Take a look for your self!
Pile-o-Goodies!
A better look at the bounty
Some awesome fabric! I love that it has a thread of gold running through it AND a border print!
I absolutely adore the color combination of this one...
Friends, I have been DYING for a piece of lace like this!
Trim! They're all so pretty, but I especially love the green on and the red, white and blue one...
Melizza, thank you so much for spoiling me! And thank you to Kerry for hosting this swap! Stuff like this makes me so very happy and excited to be part of a community that's so supportive of each other's
addictions
craft.
In other news, how much do you love Joann Fabric's sales? They make is so I never have to purchase patterns at full prices. Friends, I once saved about $110 on patterns alone via one of these sales! I picked up these lovelies recently:
I'm intruiged by the version with the over skirt, though I don't think I'd ever wear it!
And I'm really hoping that Mr. Retro has Fancy Things he has to go to when we move to Miami,
because I'd totally rock that version with the sash!
I like that this one looks both Summer and Fall, depending on fabrics and how you style it.
And this... THIS just might become my go-to pattern! I love absolutely everything about this pattern--the scooped back, the swishy skirt, the not-too-low front...
The great thing about these patterns, as well as my "on deck" sewing (I'll show you that in just a minute) is that they look Miami friendly. My webnets research tells me that Miami is hot as all get out during the summer (thank you humidity) and still warm (70s) during the winter. Friends, I am STOKED about this--I hate winter and all things associated with winter. The idea of never having to shovel snow another day in my life really appeals to me. So does the idea of wearing summery swishy-skirted dresses 365 days a year... and I'm not even a dress girl, really!
Which brings me to the last little bit for this post. In what time I do get in the sewing room/spare bedroom/office, I'd like to try to whip up these lovelies:
Maxi Dress in groovy 70s print using either Simplicity 1881 (view A or C--but not the mullet tailed version and without sleeves) or Simplicity 3503 (view C)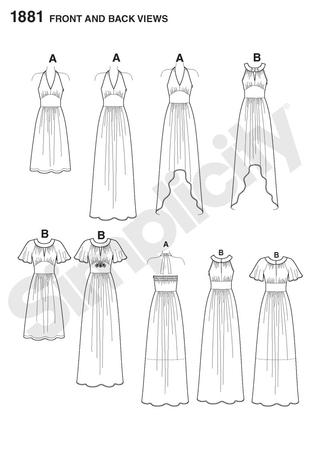 Simplicity 1881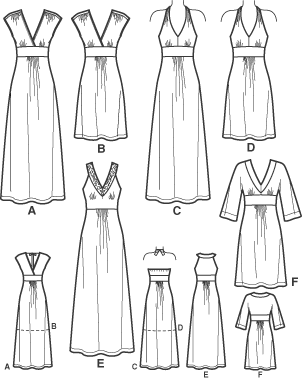 Simplicity 3503
When this fabric was gifted to me I was like, "Uh... thanks...for nothing." But it has since grown on me.
I love the colors and the feel--it's a kind of slinky knit. And it seems appropriately "Miami" to me...
Two versions of Simplicity 1803--one nautical themed the other a bit more wild!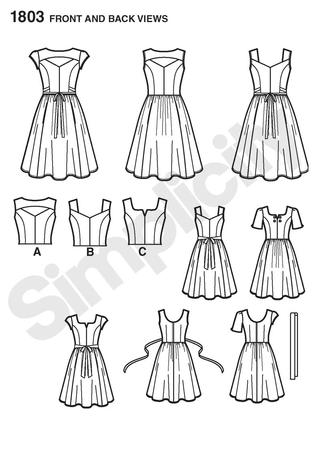 I'll be using bodice version B.
For this version, the skirt, middle front panels, and straps will be in the print. The side panels will be in the solid.
I'd like to add red piping at all the seams as well as the top and bottom of the bodice.
So there you have it! Some swap lovin', some pattern awesomeness, and some summer sewin'! How about you friends, any big surprises or plans for the rest of the summer?