Friends, it is Fall here in Philly. I desperately love Fall--the colors, the crisp air, Halloween, apple cider! Fall clothing has always been my favorite--the tall boots, the scarves, sweaters, fingerless mittens/gauntlets... and jackets. Oh God how I love the fall jacket!
I wanted to sew a jacket but am really hesitant to do so. But not for the reasons you'd think. You see... I'm moving to Florida--Miami to be exact--at the end of November. Research shows me that Miami in the fall is roughly in the 80s and winters are in the 70s.
That's pretty hot, friends.
Further discussion with my sister who lives in North Carolina, confirms that anyone south of Pennsylvania rarely wears jackets as she pretty much told me, "Um... yeah. When I get cold, I put on a long sleeve shirt and a sweater and usually end up taking the sweater off."
I'm trying to fathom a world in which I cannot sport sporty fall jackets, boots, and scarves.
Friends... these are the jackets I hereby mourn. (FWIW--these are all patterns I currently have at my disposal).
Simplicity 2508
I really liked the mid-thigh version of this with collar B and three button sleeves (top left image). It seemed very girly and 1960s Audrey Hepburn. I imagined making it in a creamy white (I so love "winter" whites) or maybe a Fall appropriate color like burnt orange or a brown plaid.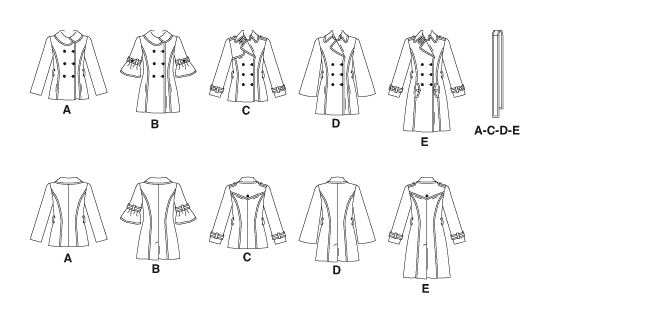 McCalls 5525
I really liked version B of this one. This is also one that say's Audrey Hepburn to me and I freely acknowledge that this is a slightly girlier version the Simplicity pattern. If I made this one, I'd probably make it a girly color. I hesitate to say pink because I'm not *really* a pink kind of girl. Maybe a soft dove-gray with dark pink accents? The longer version appeals to me as a trench coat as well...
Folkwear 133: Belgian Military Chef's Jacket
I'm on the fence about this jacket. It's an interesting shape, especially that little "tail" in the back. Shape wise, however, it reads a little 1980s to me.
These next two are from Burdastyle and are basically the same shape and style: Military. I really love the military look. I wold make these in either a smokey, chocolate-y gray or a drab olive. These two are both all about the sleeves and buttons.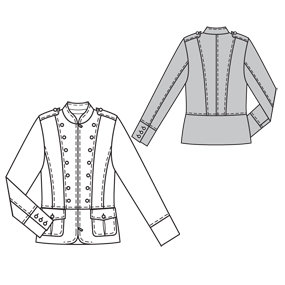 BurdaStyle--Hikaru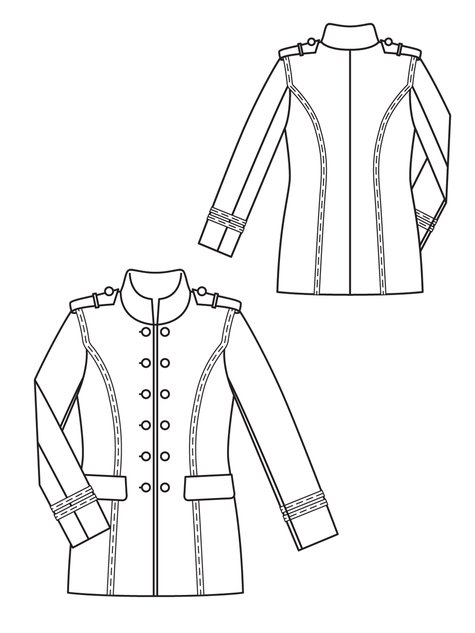 BurdaStyle--Military Jacket
And finally, a few winter coats. I love a swingy, elegant winter jacket. I suspect they are a thing of my past. You have no idea how much this makes me sad and how deeply I mourn the loss of the winter jacket.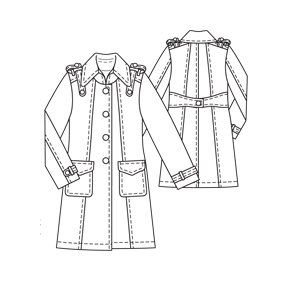 Burdastyle--Talea
BurdaStyle--Boatneck Coat
BurdaStyle--Fitted Coat with Belt
I really like the little details--the shoulders on the first, the neck on the second, and the sleeves on the third--on these patterns. They make something mundane a bit more extraordinary. Some of these details are similar to the ones in Grethchen Hirsch of
Gertie's Blog for Better Sewin
g has a new coat pattern for Butterick:
I'm not super in love with Gerti's pattern but my sister is. She lives in Central NY. She may be getting a coat for Christmas next year.
I'm at a loss, frankly, what to sew for Miami. Suggestions are welcome. And also... anyone sewing a jacket? Want to share your tips, tricks, and general experience?